Apr 6, 2011 | by
Ridz
| Music
About the author
Ridz, advertises, produces indie/electronic music, performs throughout the Netherlands but ultimately always ends up at an Amsterdam based ensemble... then he blogs about all these things.
---
Too many plans for the weekend? Let me narrow your options down by weekly suggesting the events where you can meet, dance and drink with Amsterdam's finest crowds. After all, 'a hangover ain't worth the pain if the party is lame'. So here's where you weekend warriors should go to for next Monday's hangover.
Wednesday: Viertakt 1941 with Matthias Tanzmann, Olene Kadar & Anton Pieëte @ Melkweg
Featuring German techno superstar Matthias Tanzmann and some serious local names like Olene Kadar, Anton Pieëte and Olivier Weiter, it's time for a different kind of Wednesday night in Amsterdam. Dust off your space suits, masks, uniforms, capes and gym outfits, because you're in for a wild treat. Bound to sell out somewhere during the night so be there early.

Friday: Rauwkost @ Toko MC (2×2 giveaway)
Toko MC is the one and only place to be this weekend for an ultimate mix of raw DJ's, live art, fashion designers, expo's and visualists. Not to be mistaken with the well known techno-duo, this event called Rauwkost stands for raw culture combined with Hip-Hop, Grime, Dubstep and Electro to energize the ambience. Want to taste a glimpse of this cultural overdose at Toko MC this Friday? Comment on this post on Facebook and tell us why you'd like to explore and experience at Rauwkost!

Friday: Grote Finale van de TWSTd DJ Contest @ Melkweg
The influential TWSTd DJ Contest has been known to be one of the most important in Europe. This years' finalists are Milo Moraes, Levi Verspeek, Daan Donk and Jerry T, soon to be frequently spinning around clubs in Amsterdam and beyond. A must see for any fan of serious upcoming DJ talent, larded with guest appearances by local DJ godfather Michel de Hey and last years winner Tim Hoeben.
Friday: Closer with oOoOO & Nuno dos Santos @ Melkweg (2×2 giveaway)
Without elaborating on upcoming artists oOoOO & Nuno dos Santos, I present Jorn Liefdeshuis' Closer with the following: "We are new, young and attractive. We are slightly mysterious but always kind. We are romantics, but not the kind you see in movies. We are different but not weird, we are just like you, so don't be afraid. We are Kraftwerk's interpretation of the summer of '69. We are a Nosaj Thing remix of The XX, we are Apparat's remake of The Field. We are DJ Koze stuck in an elevator with Actress. We are Pantha Du Prince playing Four Tet, James Holden playing Gold Panda and Caribou singing Animal Collective. We are Mount Kimbie just before they got big, we are that one Radiohead track, you know, that really good one. We are Closer." Caught your attention didn't it? Just click over to Facebook and comment on this post to get a little closer (we have 2×2 tickets) to attending the Melkweg this friday. Tell us why you like Closer.


Tundra – Closer Podcast 4 by Closer-Amsterdam
Saturday: Vrijbuiters go Berlin Underground: Spring Break @ Studio /K
Packed with Germans like Marko Fürstenberg (live), Roman Lindau, Jan Krueger, Shed and a list of local heroes, Vrijbuiters go Berlin Underground once again 'till the early hours of 9am-ness. No doubt about it; this party will generate a proper hangover on monday. No surprise their tagline summarizes 'FULL-POWER-NO-SHOWER-AFTER-HOUR!'. Sounds like another one of them Disneylands for grown-ups.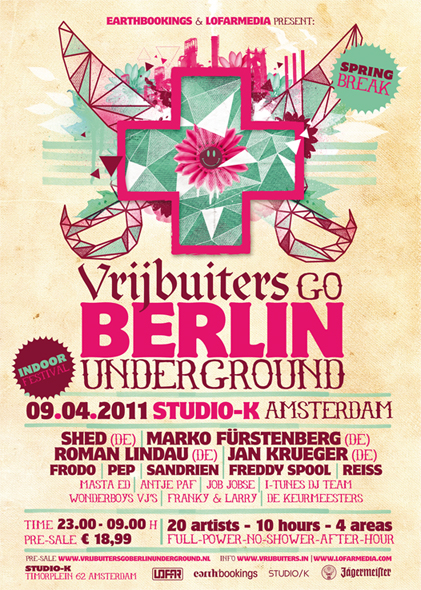 Saturday: Welcome To The Future – Leftroom Labelnight @ Studio 80
I wasn't sure what to think of this event until I saw the video beneath, which gave me the extra push to share the wealth with you. Building up towards their big yearly summer festival, Welcome to the Future is throwing three parties. The first is hosted by Leftroom, a UK-based dance label featuring Matt Tolfrey, Pablo Cahn and Welcome to the Future resident Dorine Dorado. The small area is hosted by No Way Back featuring San Proper, Tom Trago and Young Marco. Not the least of line-ups this weekend if you ask me.

Sharing is caring!
Tweet